FARM SMART: Cashel Blue Cheese – Made, Matured, Graded & Selected in Co. Tipperary
Cashel Blue Farm is a unique farm business whose journey took a new path back in 1984 when they decided to start manufacturing the multi-award winning Cashel Blue Cheese.
Using 99% of their own milk to make the world-renowned cheese, they fully understand that "quality of milk and animal welfare is key to good cheesemaking" so the importance of keeping "happy girls" (the cows) as they would say themselves is paramount to the success of the business.
"the quality of milk and animal welfare is key to good cheesemaking"
Cashel Blue is the unique creation of Jane and Louis Grubb and was developed at a time when softer blue cheeses were a rarity in the English-speaking world. Cashel Blue truly set the trend as an alternative to the traditional and stronger Blue Stilton.
Today, 37 years on and in the hands of the 2nd generation, Cashel Blue is still made by hand on the same 200-acre farm in Co. Tipperary. Jane and Louis's daughter Sarah and her husband Sergio now manage the business, employing over 38 people.
The farm and cheese operations work hand in hand, the cheese house nestles in the Osiery paddock and is surrounded by lush grazing pasture. Cashel Blue is made from grass-fed Friesian whole un-homogenised milk, creating an original Irish farmhouse cows' milk blue cheese.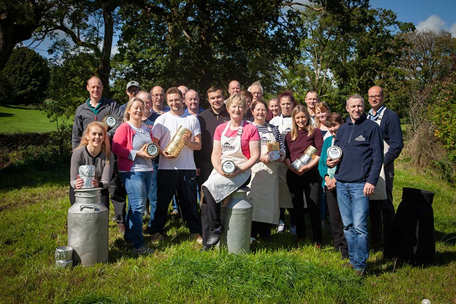 Pat Morrissey has been the farm manager for Cashel Blue Cheese for over 32 years – "I started working on the farm in 1988 and took over the running of the farm upgrading the herd to pedigree and improving milk quality and volume."
The Cashel Blue Cheese farm has an all-year-round calving herd with around 140 pedigree Holstein/Friesians. "We keep all our own replacements, and we keep some breeding bulls for sale while rearing surplus Friesian bull calves for weanling sale".
Pat is constantly evolving and growing operations on the farm to move with the times, "We constantly change and add to accommodation to make operations easier".
"We would have been writing things down on bits of paper and transferring them from one place to another before, it is now done in less than 30 seconds on my phone."
USING HERDWATCH TO ENSURE HIGH STANDARDS ARE KEPT
Pat started his journey with Herdwatch many years ago and has not looked back since. "I heard about Herdwatch at the FRS Stand at the ploughing match a long time ago and I signed up that day, it was very easy. I use it for a lot of things such as medicine recording, registering calves, animal movements, animal history and running reports."
Operating an all-year-round calving herd, Herdwatch has been a game changer for Pat who has found that the biggest benefit for him using Herdwatch has been calf registration and animal history – "Registering all the calves on the app is very easy and saves me so much time. We would have been writing things down on bits of paper and transferring them from one place to another before, it is now done in less than 30 seconds on my phone."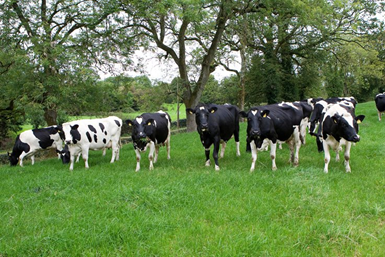 Operating under the Bord Bia Quality Assurance Scheme and under strict testing from the department, Pat must ensure his farming operations are completed at the highest standard – "Milk quality is paramount due to the strict testing from the Department and keeping in line with the high standards of Bord Bia."
Cashel Blue keep all of their farm records safe with Herdwatch, recording medicines on the app to ensure nothing is forgotten and everything can be traced – "I record all medicines on Herdwatch, it's a lot easier than being out with the pen and paper! There's nothing worse than losing a bit of paper with information on it and trying to go off memory when it comes to audits whereas with Herdwatch, it's all saved in one place and you have peace of mind when it comes to them."
Since joining Herdwatch, Pat has found that records are much easier handled and "passing the inspection has been made much easier." Pat sees Herdwatch as a key part of his operations at Cashel Blue Cheese and he recommends it to many others as a great means of simplifying their farm management.
Cashel Blue Cheese is now a registered international brand. Cheese quality, flavour excellence, and production sustainability are its primary company objectives. All their cheese is made, matured, graded and selected to the highest standards in Co. Tipperary, and the company continues to grow from strength to strength with high quality farm management as the backbone.
Download Herdwatch today
Herdwatch is fully compliant with all quality assurance standards in Ireland & the UK and allows farmers to record all remedy usage, register calves, cattle movements, breeding records and more on a simple to use app.
You too can join Pat and over 15,000 other happy farmers saving time on farm paperwork and managing their farms more efficiently, download the Herdwatch app today.