Agventions is back for 2023! 
Have you ever invented or modified something to make life easier or safer on your farm?
The fourth annual Herdwatch Agventions competition in association with the Tullamore Show is set to return this August bigger and better than ever. This year, Tipperary company Herdwatch has joined forces with Rodney Cox, Nicholas Berry and team once again to try and bring even more inventors to the event by organising an 'Agventions' competition.
Farmers with an innovative streak are invited to showcase their farming inventions and farm adaptions as part of the Tullamore Show's National Inventions Competition with six different classes including Inventions In Agriculture, Labour Saving Devices, Inventions in AgTech and Inventions that are "Too big to travel".
The best Agvention, selected by an expert panel, will get a €300 cash prize and will be entered in the National Inventions Competition which has a prize fund of €3,600.

All valid entries to this year's Agventions competition will also receive a discounted ticket for entry to the Tullamore Show.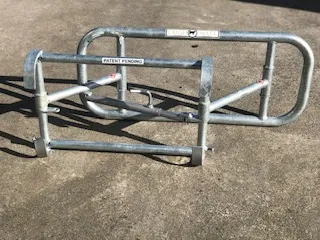 2022 Agventions Winning Entry – The Crush Mate by Seamus Dunne.
Who is eligible to enter?
The competition is open to any budding Agventor be it a farmer, contractor, farm manager, worker, partner, sibling or spouse.
How do I enter?
To enter, you simply hit 'Enter my Agvention' below and follow the instructions. If your Agvention is too big to bring to the Tullamore show or cannot be moved hit the 'Enter my 'Too big to travel' button'. 
You'll have to  enter a picture or video of your Agvention
Add a description of what it does/inspiration for your creation (100 words or less)
*Competition closes July 5th
About the Tullamore Show Inventions competition
Each entry must be submitted via Tullamore Show online form or via hardcopy to the Tullamore show office – Unit 11G Axis Business Park, Tullamore, Co.Offaly.

Each competitor will pay the fee required for entry to the class, in this case, it is €20 per entry into the Agventions competitions.

Each entry will be entitled to a discounted rate for tickets to the Tullamore Show of €15.00 a ticket and must contact the Tullamore Show office on 057 935 2141 to avail of this offer.

More information about the rules & regulations of the Tuillamore Show competeitions can be found at

https://www.tullamoreshow.com/competitions