FARM SMART: Taking the stress out of running a family and a pedigree herd
Helen Parr and her partner Dan, live in Cambridgeshire and have 170 head of cattle on 390 acres of grass. The majority are Pedigree Herefords.
"I've always loved the farming life and got my first full-time job on a dairy farm at the age of 15. My Dad was a contract herdsman, milking for 42 years and two of my brothers are also herdsmen. I moved to Cambridgeshire from Melton Mowbray after meeting Dan online and was doing a 70-mile round trip to work. Once we were expecting our first little lady, a change was needed so I quit work and bought some bucket reared calves."
"We needed a bit of help with keeping farm records and heard about Herdwatch at a show a few years back and decided to become members. The sign-up process couldn't have been easier and we had our herd downloaded from BCMS into the app in minutes.
Herdwatch has been a real lifesaver, especially when I was pregnant. I was running 170 head of beef cattle and worked throughout the pregnancy with only 2 weeks maternity leave as we found it hard to find stock-people. The Herdwatch app enabled me to still run the herd with ease and made the whole process of running a family and business much more stress free!"
Calf registration in seconds
Helen's dams mainly calf down in September and January and are brought in for calving. They have cameras in the sheds which lets Helen look after their 2 young children and keep an eye on the cows.
"I now register calves as soon 
as they are born. It's so easy using the Herdwatch app. You're automatically logged in and you can have a calf registered using your phone in seconds."
Recording medicine on the spot
"Before using Herdwatch, I was terrible at keeping track of my medicine! I would always put it off until later, then totally forget! Now with Herdwatch on my phone, I do it as I'm filling the syringes, and above all, it makes me feel so much more organized. You can scan the barcode on the box or bottle, and all the relevant information pops up in front of you, so you don't need to go writing it down anymore."
Weight recording
"For the Hereford society, I must weigh at 200 days, 400 days and 600 days and mature cows and recording weights on Herdwatch saves so much time spent on paperwork. Previously, I would have recorded weights on the back of an envelope that would generally get lost. N
ow with Herdwatch, I can do it in seconds as I'm weighing the cattle which tells me their average weight gain to help decide which to keep for breeding bulls and which to finish off."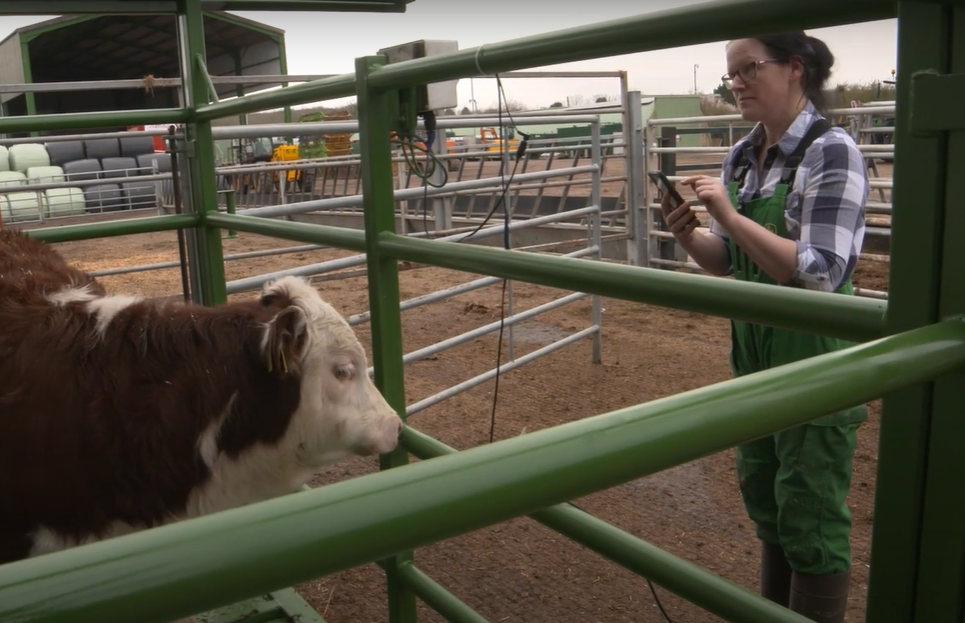 Breeding management
Helen also uses Herdwatch to manage breeding, tracking heats, serves, scans and calving list.
"As soon as I see an animal on heat, I log it. The vet is so impressed when it comes to scanning as logging scan results is easy too! It has made me so much more aware of infertile females also."
Reports at your fingertips
Helen has no need to worry about compliance inspections as the Herdwatch app helps her ensure all records are captured accurately.
"Herdwatch completely takes the stress away, it's literally – click, print, done! Before it used to take me weeks to sort and I still hadn't filled in the right information. An absolute godsend!
When I collect or deliver any stock, I just take a moment and do my movements on the spot in the Herdwatch app when still in the car!"
"Herdwatch has helped me become more professional when it comes to selling cattle. We get 1-2 buyers a week in the busier periods, spending time preparing the cattle, making the farm look presentable and keeping the children entertained but wouldn't get time to dig out the animal details. With Herdwatch, I have all the animal details in my hand while walking around the farm with potential buyers, be that as age, bloodlines, weight gain, progeny, and so on. There's no paper flying about, it's just so easy!"