Gearóid's Farming Week: Getting the cows back in calf
Patrick Bolger
| Apr 24, 2017
Since my last piece a lot has been going on at the home farm, then again that's the case with most farms around the country.
We had our annual Herd test and passed it and with the herd TB-free for another year, it allowed us to sell so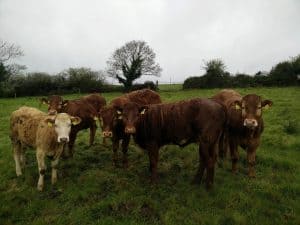 me of last year's bucket fed bullocks which had come on well over the winter months.
Over the past couple of years, we have introduced a bit of soya bean meal with the beef nuts and find the extra protein has led to good growth rates among the young cattle.
Calving had been running smoothly until Sunday morning. The first of our springers needed some assistance, she had been sick for a good few hours with just the crobeans showing. With her mother being a Belgian blue, we were worried it could be a big pull but luckily enough we jacked out the calf easily and they are both are flying it.
Importance of Recording Breeding Events
The grass growth is still slow to take off with the cool dry weather, but it did allow us to get out a nice shot of the stock. This couldn't have come sooner as silage bales are as good as gone.
All calved cows are out and grass and our attention has now turned to getting these cows back in calf. Over the last few years, we have improved our calving interval greatly. This is mainly down to keeping records of heat detections and no heats since calving using the Herdwatch app.
Shortening the Calving Interval
In 2015 on average it took 124 days to get a cow back in calf and in just two breeding seasons we have been able to get that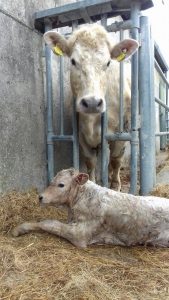 number down to 89 days.
If you take your average cow she should be back cycling 42 days after calving, to give her a chance you can add 21 days to this to allow her to cycle again. So adding the two together the cow should have come bulling at least once 63 days after calving. If she hasn't you know she will need a mineral boost or the vet might need to look at her.
I record the heat observation for cows in Herdwatch which allows me to set a reminder for 21 days time. This is very handy as we use all AI and some of the well-bred limousins can be hard to catch.
If there's slime or they're a bit airy this can be recorded in Herdwatch and it will remind me to watch out for her bulling in 21 days time.
Maximising Your Breeding Efficiency
With suckling and beef farmers having such tight margins, it's vital to maximize your cows' breeding efficiency. Looking at our own figures below the difference between 2015 and now, it takes 35 days less to get our cows back in calf.
So taking in our spring calvers this gives the calves an extra 35 days at grass. Let's say they put on 1.2kg/day, this equates to 41kgs extra live-weight when selling that animal. Looking at today's mart rates an average suckler weanling would get 2.55 per kilo multiply this by the extra 41kgs means getting an extra 105 euro per calf per cow.
| | | | |
| --- | --- | --- | --- |
| Calf Per Cow Breakdown | 2015 | 2017 | Difference |
| Days to first Service | 124 | 89 | 35 |
| Calving Date | 5/4/15 | 1/3/17 | 35 |
| Calf-Selling Date | 30/9/15 | 30/9/17 | 0 |
| Days at Grass | 179 | 214 | 35 |
| Weight Gain (1.2kgs/day) | 260 | 301 | 41 |
| Sales Prices (€2.55/kg) | €663.00 | €768.00 | €105.00 |
Looking ahead to the next few weeks
Over the coming weeks, we will look at getting the rest of the cattle out and starting the tractor work on the fields if the weather permits. There is plenty topping to be carried out as well as a few drains that need to be filled that were opened at the back end of last year. We also plan to get manure out on the grazed paddocks, but that's another day's work.