Herdwatch Version 4 is here!
Patrick Bolger
| General
| Apr 26, 2017
Last November, we carried out a survey of all Herdwatch customers. The results were overwhelmingly positive with farmers telling us that our app saves them on average 2 hours a week on farm paperwork, and 9 out of 10 saying they would recommend Herdwatch. There was also a number of feature requests and suggestions which we studied carefully.
We have been working hard since to improve the app, focusing on the most requested features, and we are delighted to announce that Herdwatch Version 4, our most innovative update ever, is now available as a free update to ALL Herdwatch customers.
Most of you will get the update automatically on your devices over the next few days and you will notice an updated Home screen. If you haven't received the update, simply open the app store and update the app from there.
What's New?
The Watchboard ™
The Watchboard is like having your farm's whiteboard or noticeboard in your pocket.
It will show you every job that needs your attention, and help you keep track of important things like Cows Due to Repeat, Cows Calving Soon, Animals in Withdrawal, Planned Jobs, and more.
And it also comes with a voice assistant, for those times when you're multitasking, Herdwatch will literally tell you what's due today. To activate our voice assistant, simply use the orange play button at the top of the screen.
Multiple Animals on Serves and Heat Observations
Farmers using Herdwatch to manage their breeding and shorten their calving intervals wanted to able to record multiple animals on heat observations and serves. Now you can!
The ICBF BUTTON

You can now look up your animals' EBI & Star ratings directly from Herdwatch. Simply use the 'ICBF' button on an animal in Herdwatch and it will bring you directly to that animal's Star rating or EBI (you may need to log in to the ICBF website).

Easy Tutorials, and more!
It's now easier than ever to use our app. We have built new in-app tutorials to guide you through the main features of Herdwatch, step by step. You can trigger these at any time by using the question mark on the home screen…. but the tutorials will explain all that!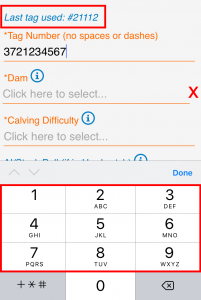 We have also made loading the app faster than ever (up to 3 times faster), and reduced the syncing interruptions when launching the app, while still ensuring your data is backed up to the cloud regularly.
Last, but not least, when registering calves, you will now be able to use a numeric keypad to enter tag numbers, and you will also see the last used tag number on the calf registration screen.
There are dozens of other fixes and improvements, too many to mention them all, but we hope you enjoy using Version 4 as much as we've enjoyed building it 😉
What's Next?
Push Notifications & Message Centre
In the next few months, we will be adding more features to Herdwatch, including push notifications and alerts, as well as a brand new Message Centre which will allow you to get in touch with us right from the app and see all your conversations with our support team.