Here come the girls!
International Women's Day is a global day celebrating the social, economic, cultural, and political achievements of women. This year the #BalanceforBetter campaign focuses on breaking down stereotypes and ushering in a culture of diversity and gender equality. To celebrate we wanted to share the story of just some of the ladies we've had the pleasure of working with.
Ursula Kelly- Director of Operations at Cormac Tagging
Leading Agri-Business entrepreneur and friend of Herdwatch, Ursula Kelly of Cormac tagging is taking the sector by storm. Cormac Tagging is a family owned business in Tuam, Co. Galway. The company has a record of 30 years in the agri-business sector in Ireland. The eldest of five girls Ursula joined her father TJ in the business in 2014. While Director of Operations at Cormac Tagging is Ursula's official title, she is also a qualified accountant and Mother.
Ursula is also an avid member of West Women in Farming Ireland (WWFI), a sister-group of the recently established South-East Women in Farming-Ireland organisation. The group aims to empower and support Agricultural ladies in the Connaught region.
'The organisation encourages women making friends with other women and helping them to join the loop. I am a strong believer in women helping women.'
The sky's the limit for this woman in ag and we look forward to seeing her grow her business to the next level.
Helen Mulqueen- Dairy & Suckler Farmer / Herdwatch Sales and Support Team
Helen Mulqueen is a dairy and suckler farmer from Birr, Co. Offaly. Farming at home alongside parents Patsy and Geraldine,the Mulqueens own 96 acres and lease an additional 30 acres a few miles from the family farm.
Helen Mulqueen – Dairy/Suckler farmer & Herdwatch Sales and Support Team Member
This Co. Tipperary farm operates a spring calving system for the dairy and suckler herd. The dairy herd consists of 40 milking cows and 6 replacement heifers. While the dairy bull calves are kept and sold as stores , the heifer calves are mostly kept for replacements. The suckler herd consists of 10 suckler cows.
Outside of farming Helen is also of key member of the Herdwatch Sales and Support team.
'My day normally starts off by getting up at 6:30am, throwing on the wellies and overalls, then outside to get started foddering, cleaning down the cubicles and milking. Then back inside to try and be ready for 8:30am (which doesn't always happen) to head into Herdwatch HQ!'
Between managing the farm, keeping down the day job and everything in between there is no denying that this woman in Ag is an embodiment of lots of other women juggling farming with a full time job.
Louise Crowley- Dairy Farmer/ Queen of the Land 2018
Louise Crowley is a third generation farmer from Croom, Co. Limerick where she and her father John run the family dairy farm. The farming duo milk a herd of 150 Friesian cows under a spring-calving system. With plans to expand the milking herd to 170 cows next year.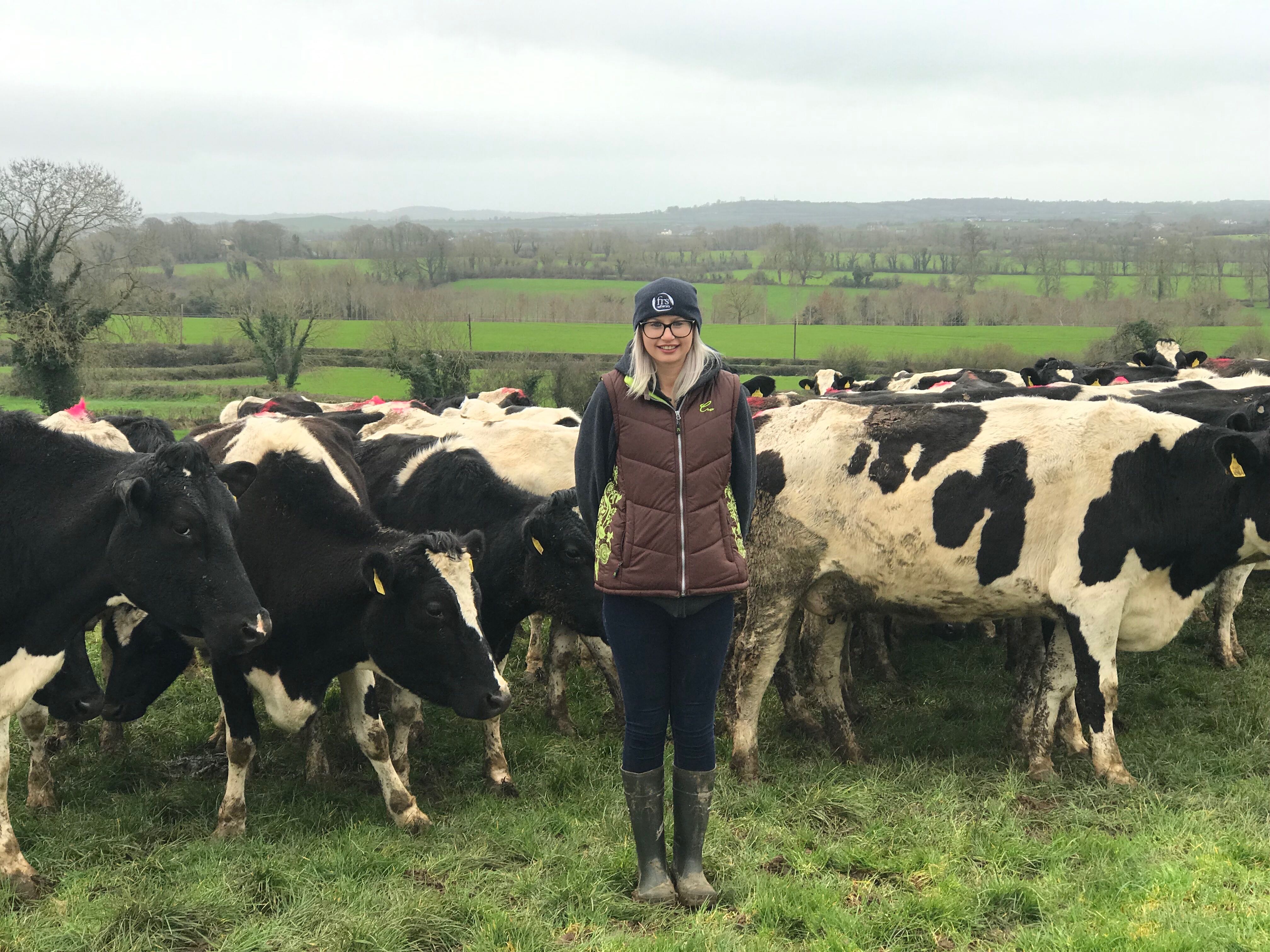 Louise Crowley- Dairy Farmer & Queen of the Land 2018
Commitments don't stop there for this Limerick native, off farm Louise is is heavily involved in Macra na Feirme, at both club and county level. In addition,Louise is also the secretary of the local and county vintage club. If that's not enough she is the reigning Queen of the Land and this title comes with an abundance of commitments in it's own right.
'It can be very tough, but I'm very lucky that I do have dad here full-time around the farm; that he can cover for me when I am gone away.'
There is no denying that we'll be seeing lots more from this show stopping woman in Ag very soon.