Irish Farmers Projected To Trade 460,000 Animals On New Free Online Service In Next 3 Years
Farmers across Ireland are projected to trade 460,000 farm animals over the next 3 years using a free online trading platform Buy & Sell by Herdwatch.
Across the country, farm to farm movements of animals have been on the rise over the last 10 years with a 50% increase from 1 million in 2011 to 1.5 million movements in 2021.
That trend is set to continue as farmers increasingly utilise digital technologies to make their activities more efficient. On a county by county basis, Herdwatch forecasts the largest number of trades will come in Cork (60,000) followed by Tipperary (40,000), Limerick (25,000) and Galway (25,000).
With farmers already having provided information about their animals on Herdwatch, the Buy & Sell by Herdwatch platform allows them to advertise those animals including verified data. That includes breed, age, movements, weights and more – helping farmers to ensure they receive the best value for their animals.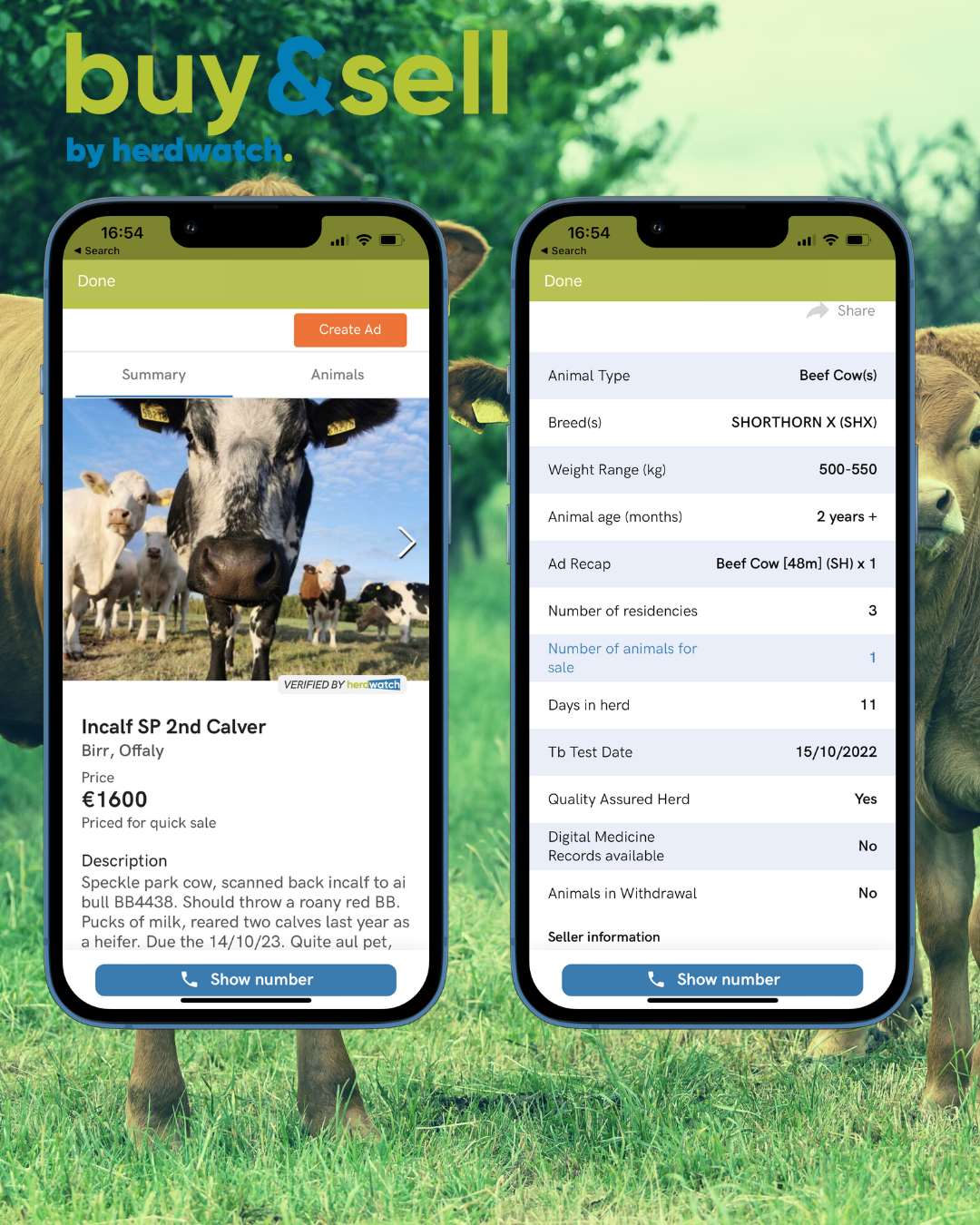 Farmers are also able to add photos and a video to their free listing. The animals are advertised for sale 24/7, 365 days a year until they are sold, and no commission is charged for animals sold via the platform. 
Speaking about the new service, Fabien Peyaud, CEO and Co-Founder of Herdwatch said,
"The level of farm-to-farm trading is growing all the time and we fully expect to see more livestock in Cork traded this way using our commission-free platform.
"At Herdwatch our mission is to help make life easier for farmers. We are committed to using modern technology to simplify farming life and to reduce the workload facing farmers in Cork and around the country. That is why we continue to invest in improving our service and in upgrading the app to meet the growing needs of farmers.
"Trading livestock is an important part of modern farming life and that is why we felt adding this online trading service was a no brainer. In the short time it has been live we are already seeing it gain significant traction as farmers look to advertise their animals to our 18,000+ Herdwatch members. We've been getting very positive feedback from buyers and sellers.
"We know the buying and selling of livestock can be a time-consuming activity for farmers, and now farmers can do that without even leaving the Herdwatch app. Ultimately this is about saving farmers time and we hope they will find this latest service a further benefit of Herdwatch," Mr. Peyaud concluded.
The trading platform is provided as part of the suite of services available to over 18,000 farmers who are members of Herdwatch, and is also available for free to any farmer who downloads the Herdwatch app.
Buy & Sell listings can be viewed by visiting buyandsell.herdwatch.com or by downloading the Herdwatch app from the App Store.
Alternatively you can click on the below link to go straight to the listings page: