We're on the Moo-ve -Upcoming Events
We are delighted to have such a jam-packed few weeks of events to look forward to. We value our time out of office as essential to the growth and success of our business. Not only does it give us a chance to meet with an extensive reach of members, we also get a chance to expand our reach to prospective new members and of course everyone else in between.
Cork Summer Show – June 15th
First stop is the esteemed Cork Summer Show, set to take place on Saturday 15th & Sunday 16th of June at Curraheen Racecourse, Co. Cork. This action packed show is the perfect day out for all the family to enjoy. With a varied programme of activities including food, garden, vintage machinery, farm machinery, trade stands, music and entertainment.
The first Munster Agri- innovation Awards in conjunction with Munster Agricultural Society, Local Enterprise Office and Agri Insider will also take place at the show. The awards aim at honouring agri innovators across an array of categories such as engineering and technology, environmental impact and farm diversity.
We will be participating in this ambitious competition as part of which we will be demonstrating in the Agri- Innovation Marque at the show on Saturday June 15th. Our team will be exhibiting Herdwatch features such as the breeding tool, how to to register calves in under a minute , weight recording on the go , how to get daily reminders in the Watchboard, how to produce reports in seconds and much more. A not to be missed event!
Location: Curraheen Showgrounds
Date: 15/6/19 & 16/6/19
Time: 9 am – 6 pm
Keenan Open Day – June 18th 
On Tuesday the 18th of June, well-known machinery firm Keenan is set to host an open day from 12:00pm until 8:00pm. The event will take place at Keenan's production facility in Clonygoose, Borris, Co. Carlow. The event will play host to a variety of seminars and demonstrations on the day. Including a technical and informative farmer panel discussion hosted by InTouch feeding specialist, Seamus Callanan, a behind the scenes tour of Kennan's world class manufacturing facility and live demonstrations of the KEENAN VA2-24 and the KEENAN MechFiber380 bale handler. Visitors to the event will also have the opportunity to meet representatives from leading Ag-tech and farm support companies: Herdwatch, Moocall, InTouch, Grasstec, Samco and Embrace Ireland.
Location: KEENAN System Clonygoose, Borris, Co. Carlow
Date: 18/6/19
Time: (12 pm- 8 pm)
Herdwatch Workshop- June 19th 
After a very successful first workshop in Roscrea, Co. Tipperary. We're delighted to announce that the second stop on the tour brings us to Cahir, Co. Tipperary. The workshops offer the perfect opportunity for you to get more familiar with the features and benefits of Herdwatch, ask questions about the app and learn what we have in the pipeline for the future of the Herdwatch app.
Location: Woodview Service Station, Cahir Co. Tipperary
Date: 19/6/19
Time: (2-4 pm / 7-9 pm)
Herdwatch Workshop – June 27th
The next stop on the tour brings us to Bandon, Co. Cork. For an afternoon packed full of all things Herdwatch. Our workshops are aimed at helping our members get the most from Herdwatch and indeed letting prospective members know what we're all about.
Don't forget we have launched our refer a friend scheme so if you bring along another farmer who wants to say goodbye to farm paperwork and get started on Herdwatch, we will give them a special introductory offer (6 months Herdwatch Subscription for €30) and give you €30 (or more) off at your next renewal. 
Location: Munster Arms Hotel, Bandon, Co. Cork
Date: 27/6/19
Time: (2-4 pm / 7-9 pm)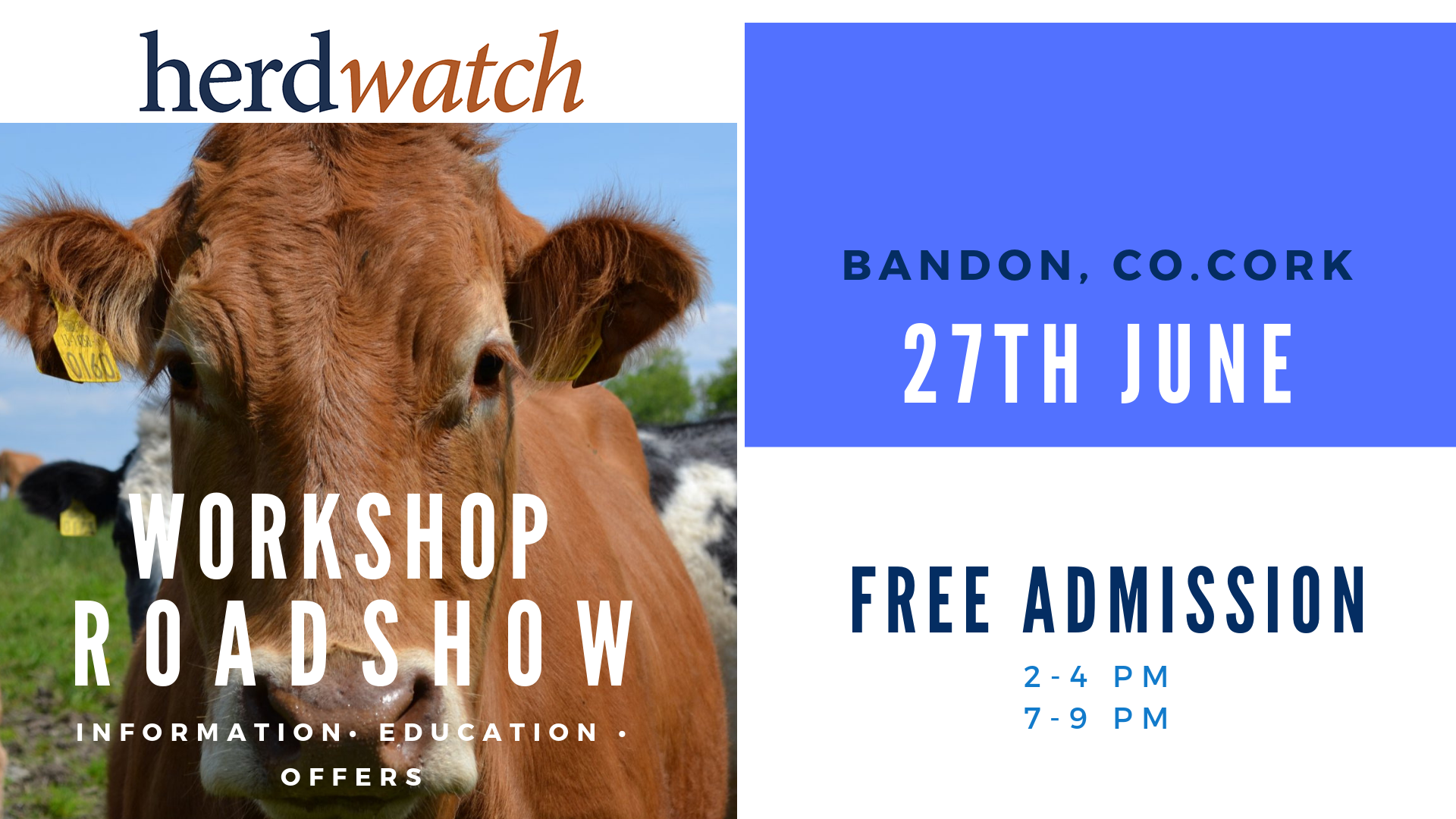 Get Herdwatch for FREE
Herdwatch is fully compliant with Bord Bia and EU quality assurance standards and allows farmers to register calves and manage cattle movements on their phone. It is fully integrated with ICBF so farmers can see their breeding, milk records and EBI/Eurostar information on Herdwatch.
Join over 10,000 happy farmers saving time on crucial farm paperwork and managing their farms more efficiently for FREE.
The Free-Plan allows farmers to:
Download their Herd from APHIS (NI), BCMS (UK) or Agfood (IRL) 

Record 5 calf registrations

Record their medicine purchases

Record Heat detection and general tasks