FARM SMART: How a red twin calf named Pip helped change this Limerick farmers life
22 year old county Limerick dairy farmer Finnian Walsh has taken the social media platform TikTok by storm sharing farming content to the world and amassing over 110,000 followers along the way!
Finnian hales from a dairy farm on the outskirts of Limerick City farming part time alongside his father & two brothers with help from his younger sister and mother. "My family has a rich farming history we are farming on our farm for over 100 years, we originated from Rathkeale in County Limerick but my great great grandfather moved closer to Limerick City to find work and bought a small plot near his place of work, over generations we have expanded and diversified."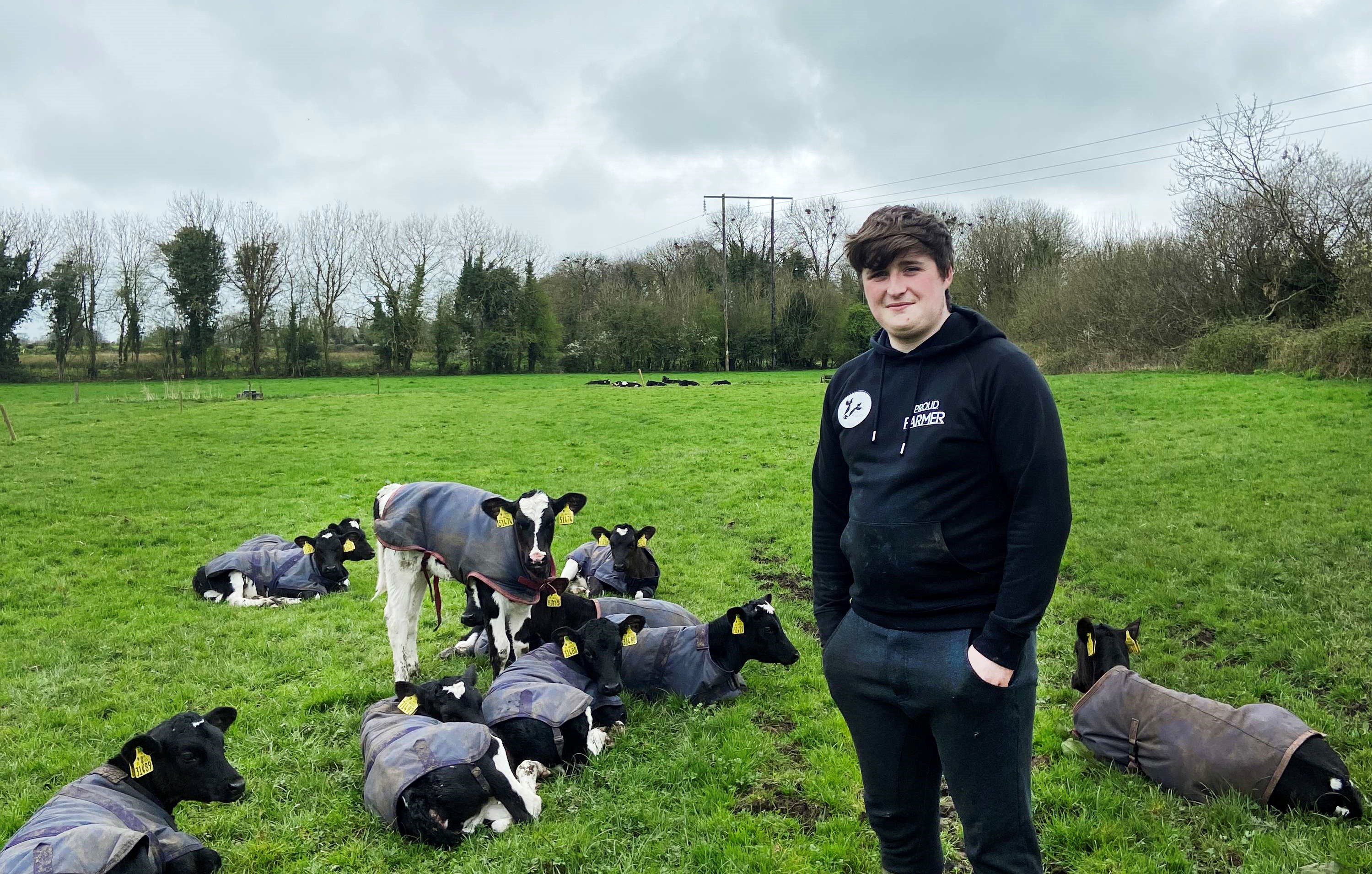 The Walsh family farm today stands at 170 acres in total. "It is made up of a main dairy block which is broken into paddocks this amounts to 65 acres of land, we own a total of 70 acres and rent or lease the remainder, We currently breed and milk Holsteins as we find them a good suit to our farm, in the past we experimented with a number of crossbreeds these included British Friesian, Jersey, Montbeliard, Norwegian red, among others however we weren't pleased with the results therefore switched back to our prior system which consisted of Holstein Friesians mainly."
The Walsh's have also recently registered as a pedigree Holstein herd with a number cows registered as pedigree animals.
Ensuring high grass quality to improve milk quality
The Walsh's place a strong emphasis on ensuring grass quality. "We operate a rotational grazing system, we graze on 30 paddocks most of which are on the main dairy block, some paddocks are slightly disconnected from the main block but easily accessed. We try to reseed 5-10% of our grassland each year this all depends on grass dependency and also weather."
"We often plant kale as a wintering crop the winter prior to reseeding allowing us to break up the soil prior to cultivation and results in a better reseed from our experience."
The secrets to success on the Walsh family farm
Having a good handle on all of their key performance indicators allows the Walshs to ensure their herds performance is of the highest quality.
"The main aspects to consider whilst running a business such as a dairy farm is staying within your means." Finnian emphasised. "My father runs a mid-sized farm and he ensures that he can support the livestock each year no matter what parameters are in place which may affect the herds performance, to simplify he does not over burden the land by over stocking & he doesn't over burden himself as he has increased the parlour size to reduce the milk times therefore giving him more free time."
The Walshs operate a closed herd, meaning they do not purchase any animals to be brought onto the farm.
"We are a closed herd and do not purchase any livestock, we have been this way for over 30 years, we feel we have more control over livestock quality this way."
"The key performance indicators on our farm is firstly our 6 week calving rate. This year we began calving on the final week of January and by the first week of March we had 9 of the 86 left to calve which gives us a 90% 6 week calving rate which is exceptional!"
"Secondly our cell count, our cell count is almost always at a good level, often falling below 70 during the Summer months which is attributed to my father's milking times and the speed of milking, our SCC currently stands at 120!"
"Another massive part of our performance indicators is EBI something we have a lot of pride in, our average herd EBI is 188 that is against the top 10% which is 168 also in the fertility sub-index we have an EBI of 82 against the top 10% which is 77 and this only improving as our replacements for 2023 have a group average of 230 with massive emphasis on the fertility sub-index."
Constant investment key to improving operations 
The family have made a number of significant improvements to the farm over the last few years with the end goal always to improve operations and save time. "We have made a number of improvements and innovations in the last 5 years, firstly we extended our milking parlor from 8 units to 12 with feeders fitted which we previously didn't have, the feeders have made a massive improvement in time management during milking and has allowed for better work life balance as my father can finish milking sooner and also allows for better production as cows spend less time waiting to be milked and more time grazing on consuming silage."
"In the last number of years we also built a new calving house which has reduced the pressure during calving season as we were tight for space with 3 calving pens we have now got 5 we also installed calving cameras which has allowed for higher supervision, reducing the risk of calf mortality."
Finnian expressed how the improvements don't stop there "we are hoping to complete a new cubicle house by the conclusion of 2022 this housing will ensure cow comfort and also hold excess slurry storage to help in the later weeks of the closed period, the cubicle house will consist of 2 rows of cubicles amounting to 34 cubicles in total with feed access at either end."
Learning his trade in the dairy industry
Finnian is learning his trade in the dairy industry with aspirations to one day come home and take over the family farm. "I am currently attending Salesian Agricultural College full-time in a level 5 certificate of agriculture and intend on going on to level 6 in dairy management next year, the course is very informative and brings the students up to date on new techniques and technologies."
Spare time is not something Finnian comes across too often as he also works full time on a 280 cow dairy herd in west Limerick. "I work full time on a high input dairy farm in west limerick which I find great as it is an eye opener into a different way of dairy farming and also they run a large amount of technology to assist in the production of milk, its great to get knowledge of how different farms work and different practices that I can bring home to my father on our own farm."
How a red twin calf named Pip helped change Finnians life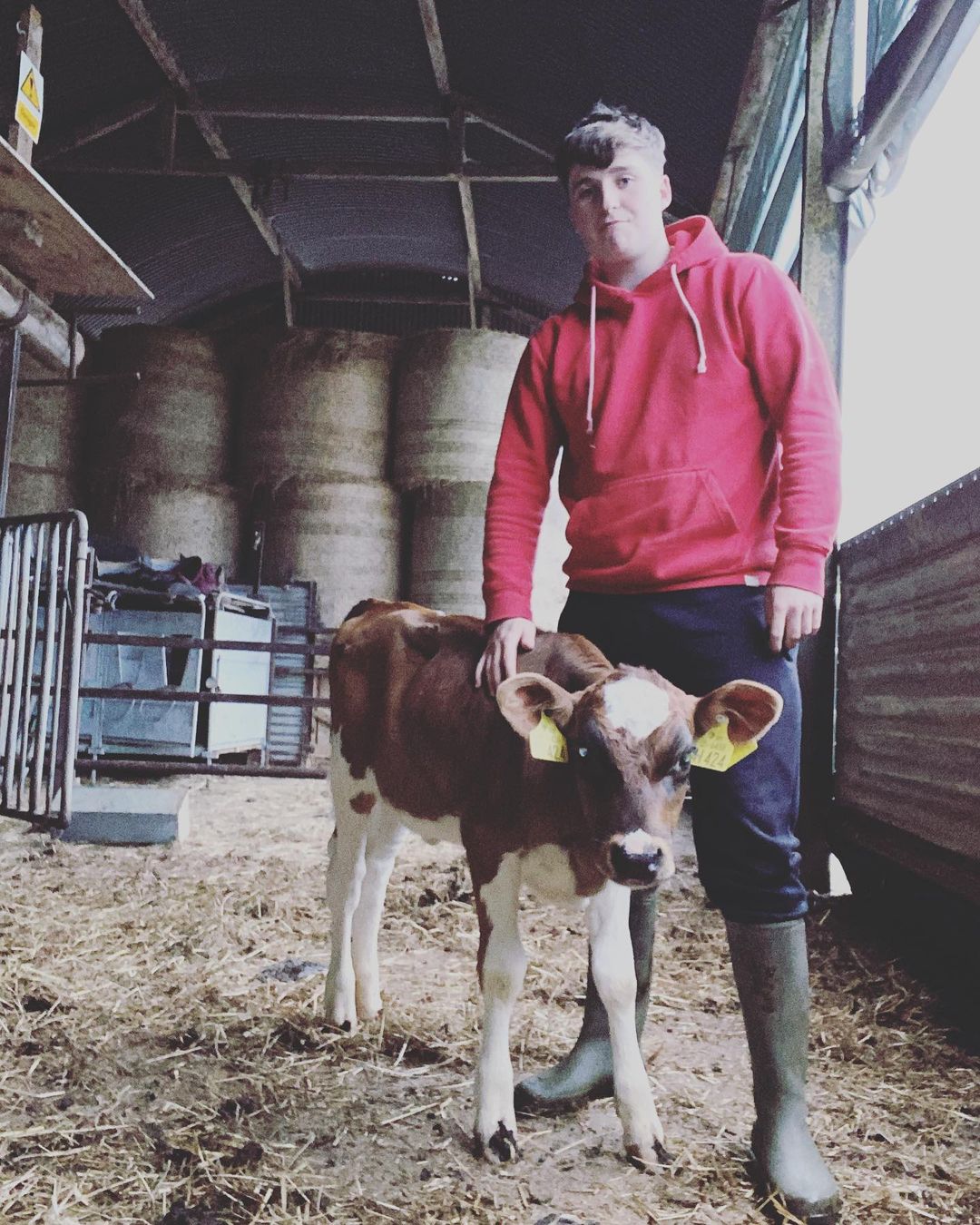 Finnian never had plans to share farming content on social media to such a large audience but when lockdown hit in March 2020, Finnian looked to TikTok to fill the void left by the lack of social interactions. "I started TikTok shortly after Ireland went into lockdown in 2020, the lockdown took a toll on me mentally as I was always an outgoing person and I struggled with the sudden isolation from friends & family. I had TikTok downloaded but never dreamed of posting but out of boredom and a desperation for human interaction I began creating and posting videos and I found it great as it kept me distracted and allowed me to get creative."
"My videos started off getting small amounts of attention however this all changed when I began sharing videos of a undersized red twin calf I referred to as 'Pip'."
"Pip was born along with a twin that was much bigger than her, people were drawn in to see how Pip would grow and develop giving her disadvantaged start in life, she also had a massive personality, people were intrigued to follow her journey."
As Finnians TikTok presence grew he also started to correct misconceptions & misinformation about the dairy industry in order to shed a positive light on the great work farmers do, informing and educating people who may not know how farming contributes greatly to society.
At present Finnians busy schedule prevents him from creating as much content as he would like however he does have aspirations to take his social media presence further and has even started selling his own merchandise such was the interest he gained through his social media exploits! "I decided to create and sell my own merchandise because a lot of people were asking me to, I would originally had no intention to do so but such was the interest I decided to give it a go!"
YouTube is the next market this farming influencer will look to conquer, "m
y main goal for the future is to get myself onto YouTube and create longer videos that my followers can enjoy as it is the most requested next step for me." 
Using Herdwatch to save valuable time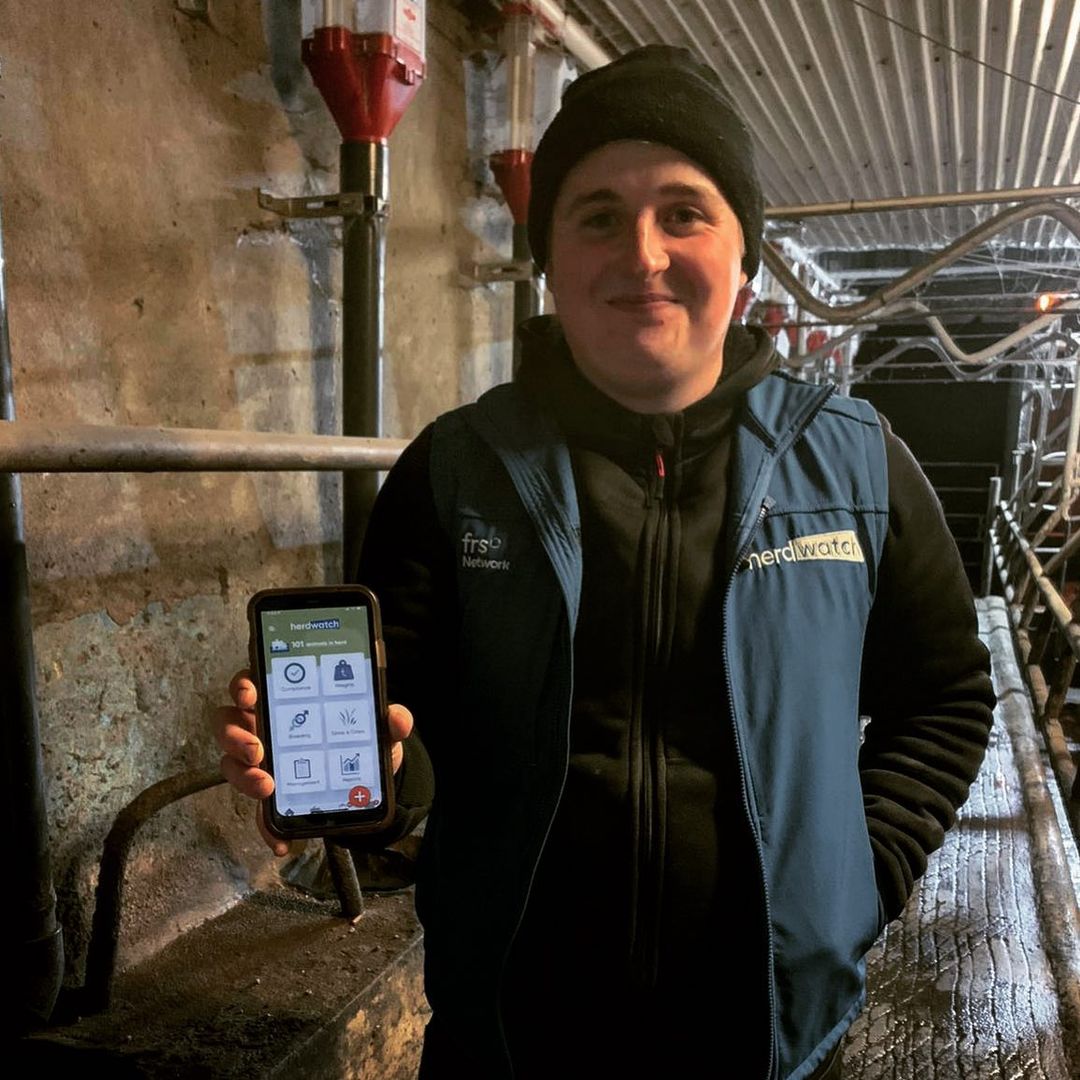 Herdwatch has been in operation on the Walsh family farm for over 6 years now. "My father came across Herdwatch while at the ploughing championships back in 2016, he had been looking for a tool to help with calf registration in particular and decided to give it a go and we have never looked back." My father wouldn't be the most tech savvy but he found it very easy to set up with just a small bit of help from myself and my brothers.
"It is very easy to use everything is clearly labelled. We have never had to contact the Herdwatch Customer Success team since we began using the app, everything has ran so smoothly for us!"
Calf Registration at your fingertips
"We use Herdwatch to register every animal which is born on the farm, it is brilliant! We can register that calf before it has even had its first drink from their mother, we just get up the phone and register there and then! Old methods of calf registration were so time consuming, my father used to have to sit at the computer registering calves and when you're in the middle of peak calving it is not nice to have to come in in the evening when you're tired and sit at a laptop screen and looking for bits of paper. Herdwatch has eliminated all this for us."
"The calf registration feature is definitely our favourite part about the app! It has made calving season so much less stressful as we can get a calf tagged and registered in the blink of an eye!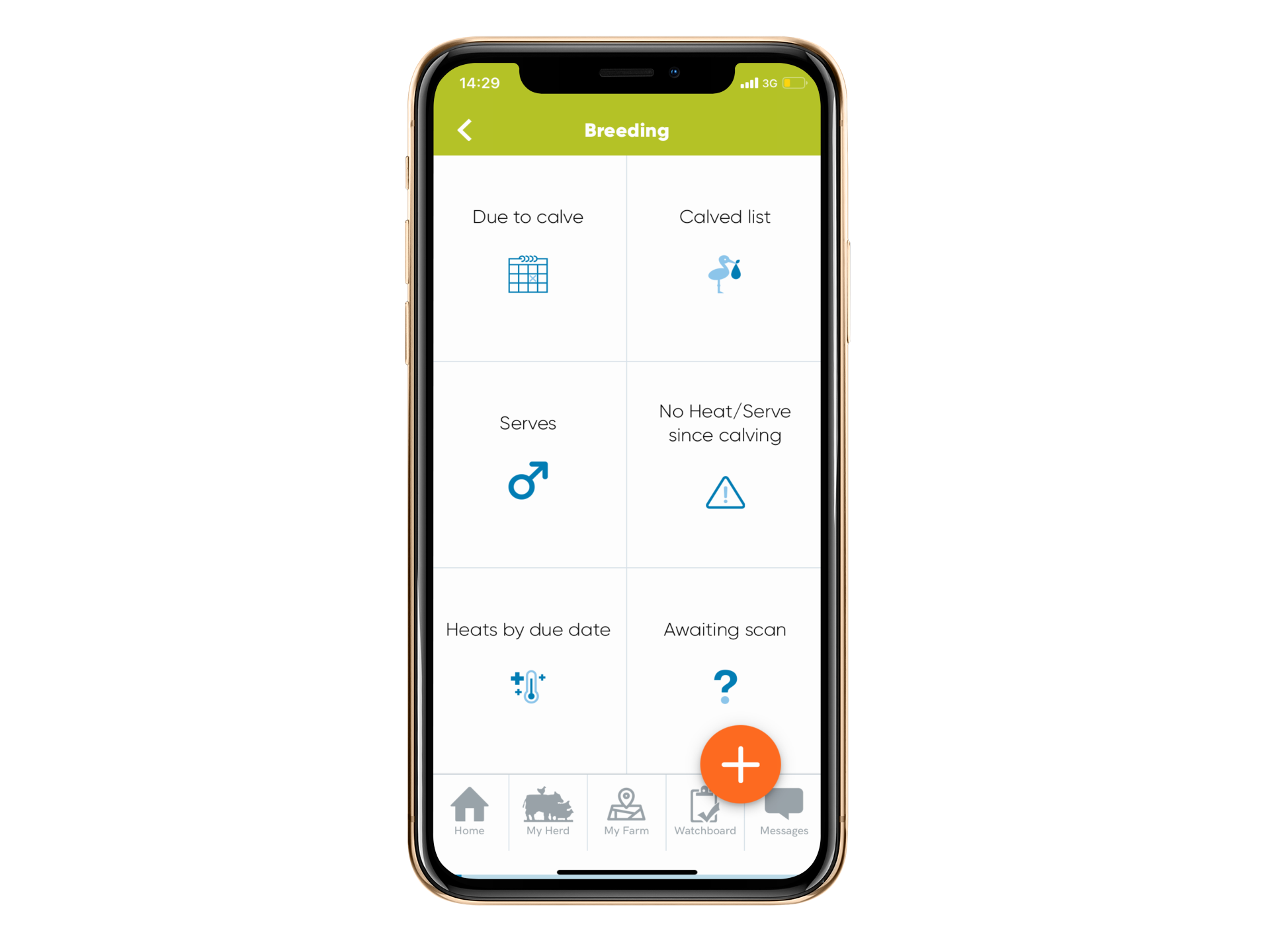 Breeding Management made easy 
"We pride ourselves on our breeding and Herdwatch helps us to step up the quality of animal we are producing. We log all our inseminations and heats of cows as we like to be able to have records of when each animal was inseminated. "
Saying goodbye to farm paperwork
Herdwatch has helped the Walshs keep farm paperwork at a minimum!
"Prior to using Herdwatch we had piles and piles of receipts and medicine records and it was just a nightmare when inspection time came around. Now with Herdwatch everything is there in front of you and makes it very easy to show the inspector!"
"Herdwatch has allowed us to reduce the amount of paperwork and documenting we need to do each week, helping us reduce labour in turn giving us more time to focus on parts of our enterprise that need work."
"I think Herdwatch will be a big part in the next generations management style and will modernise the record keeping on farms"
"I recommend Herdwatch to anyone that will listen to me, some of which have signed up only this year and found it absolutely brilliant!"
You too can join Finnian and over 16,000 other happy farmers saving time on farm paperwork and making better decisions – to find out more information or download the Herdwatch farm management app, hit the download button below or call  0505 34400 today.
You can follow Finnians TikTok journey today @fin_walsh99