Herdwatch Gestation Calculator
Want a simple way to calculate your calving dates?
The Herdwatch gestation calculator is a quick and simple tool to give you estimated calving dates.
The average cattle gestation for most breeds is 283 days, although it may last anywhere from 279 to 287 days.
Simply enter the date that the cow was serviced and the estimated calving date will automatically appear. The great thing about this tool is you can add individual dates for cows and generate a very handy PDF which will include the Animal ID, Service Date & Calving date like the example here: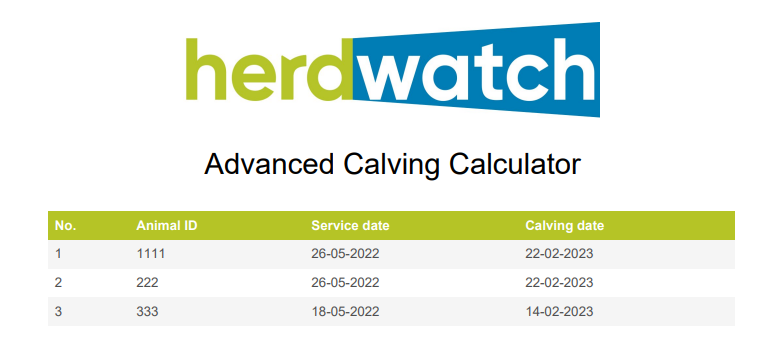 Try the calculator for yourself:
Managing your breeding in Herdwatch
From heat detection to scanning, a lot of Herdwatch Members record their heat detections in the Herdwatch app for a month before the cows are due to be served.
This way, the app will notify you of what cows are due in heat and so you can keep an eye out for them. It is particularly helpful because sometimes it can be hard to see if the tail paint has been rubbed off a cow's back, it will also show what cows haven't come back into heat yet.
The 'Watchboard' sends alerts directly to Herdwatch on your phone when a cow is due to be served. You can then record the serve into Herdwatch as it happens and you will then get a reminder for any repeats.
Later in the year when it comes time for scanning, you can put your scan results into the Herdwatch app and they are then transferred to ICBF, or if an AI technician is scanning for a customer, he sends them to ICBF and they automatically appear back on Herdwatch.
You can then look at the reports which show what cows are in calf and when they are due. It also tells you what cows are not in calf.
Just some of the breeding features in Herdwatch include:
Recording Serves
Quickly input Scan Results
Notifications on non-Cycling cows
Easily select your stock bulls or create the AI bulls you use 
Heat Observation
Due to calf dates and reminders
List of Cows Calved
Watch for repeat – Watchboard
To download the app click the button below